Nikora's Scholarship Winners were Revealed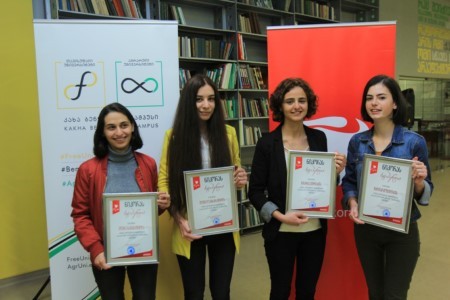 09 Oct. 2018
"Agrarian University's" third and fourth year students of the food technology program, Elene Javakhishvili, Elene Ghambarashvili, Mariam Gogelidze and Gvantsa Kurdadze, became winners of "Nikora" scholarship.
The students were awarded at the grand event which took place at "Agrarian University."
We congratulate to the winners and wish them a successful life.
Scholarship has been awarded to each student according to the academic rating per semester.
Students rating will be reviewed per semester and subsequent semester scholarship holders will be selected.
We remind you that on May 16, 2018, the memorandum was signed between the company "Nikora" and "Georgian Agrarian University", according to which it was decided that four students of food technology program of "Agrarian University" will receive scholarship from "Nikora". The faculty program was not selected randomly. Based on the fact that "Nikora" is one of the largest producers of food products in Georgia, the goal of the company is to promote development of food technology.