Nikora Trade Issues Bonds Worth Estimated 5 Million Dollars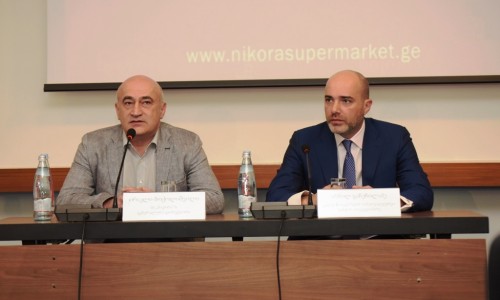 21 Mar. 2016
"Nikora Trade" announced it has issued bonds estimated in value at 5 million US dollars. Secured placement of the bonds was provided by "Galt & Taggart". Period of validity of the bonds is two years while an annual interest rate reaches 11% of the nominal value.
Director General of "Nikora" Holding, Irakli Boqolishvili states that the registered securities has already resulted more interest that it was expected by the company.
"Nikora Trade" has been progressing over years and currently it is the biggest organized supermarkets chain in Georgia. Respectively, development is followed by the corresponding innovative steps including issuing and placing of coupon bonds. By the way, "Nikora" is the first company, which is not affiliated with the "Bank of Georgia" and has issued its own registered securities.
We were optimistic about the innovation, but we did not expect this much", says Boqolishvili.
Minister of Economy and Sustainable Development of Georgia, DimitryKumsishvili has attended the event which took place in order to celebrate issuance of the bonds. Kumsishvili congratulated "Nikora" and expressed his hope that other Georgian companies will also be active in this direction.